We are the Bullet Club… We are the Elite… and we RULE the W3!
The Elite… The-the ELITE!
Le plus récent - et premier à la W3 - épisode de la Web-Série sur Youtube à succès "BEING THE ELITE" s'ouvre avec son thème habituel accompagné du graphisme en 8-bits présentant Kenny Omega et les Young Bucks. L'image coupe ensuite sur la loge de la mini-faction à l'intérieur du Bullet Club. Les 3 membres de The Elite sont assis sur un sofa et c'est le leader, Kenny Omega qui prend la parole en premier.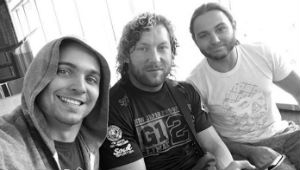 -=The Cleaner Kenny Omega=-
Mesdames, mesdemoiselles, messieurs et tous les autres - parce qu'ici à Being The Elite, on accueille tout le monde parmi notre fanbase que tu sois homme, femme, transgendre, travesti,sans gendre, queer, androgine, hermaphrodite ou autres - il me fait plaisir de vous souhaiter la bienvenue au grand retour de LA référence en matière de Webcast dans le monde de la lutte et je parles évidement de BEING THE ELITE. Je suis votre hôte, The Cleaner Kenny Omega et comme à l'habitude je suis flanqué de mes deux compagnons de toujours… Matt Jackson
-=Young Buck Matt Jackson=-
Yo...
-=The Cleaner Kenny Omega=-
Et Nick Jackson
-=Young Buck Nick Jackson=-
Sup...
-=The Cleaner Kenny Omega=-
Avant d'embarquer sur notre sujet du jour, je tiens à crever un abcès tout de suite. Suite à ma défaite contre Randy Orton et la perte de mon titre à Poison j'ai entendu toutes sortes de rumeurs à mon sujet. J'ai entendu que j'allais remballer mes trucs et retourner lutter au Japon… que j'allais caréement accrocher mes bottes. Il y a même des sites qui rapportaient que je me recyclerait en danseur nu, en gigolo ou pire encore que j'allais avoir le role principal dans "The Marine 8".
-=Young Buck Matt Jackson=-
Dave Meltzer, on regarde dans ta direction présentement… Valides tes sources.
-=Young Buck Nick Jackson=-
Ouais, on ne peut pas avoir un finisher en hommage à un journaliste "pas fiable"... ne nous force pas à le renommer pour le "Rajah.com Driver" ou le "Vince Russo Driver".
-=Young Buck Matt Jackson=-
Ark...Vince Russo...Dude...
-=Young Buck Nick Jackson=-
Ouais je sais, j'ai un peu vomi dans ma bouche en le disant… Désolé Matt, je ne recommencerai plus!
-=The Cleaner Kenny Omega=-
Bon, je vais casser ce moment de malaise ou Vince Russo et le mot crédible ont été associés ensemble - chose qui ne devrais jamais arriver… Bad Nick… BAD! - et addresser le sujet une fois pour toutes. Disons simplement ceci: THE RUMOURS OF MY DEMISE HAVE BEEN GREATLY EXAGERATED! Je suis toujours à la W3 et j'ai l'intention d'y rester pour longtemps. Maintenant, comme vous avez pu le constater je me suis fait discrèt et énigmatique lors de Live sur mes actions récentes suivant Poison et surtout sur mon absence voire même ma disparition. Well now you know me… pourquoi donner le crédit, les cotes d'écoutes et les bénéfices à la W3 quand je peux révéler tout ça ici même à Being The Elite et profiter des clicks des amateurs en manque de savoir pour nous générer des revenus additionnels...
-=Young Buck Matt Jackson=-
That's some smart shit right there folks!
-=Young Buck Nick Jackson=-
Pas surprenant que, toute fédé confondue, le Bullet Club sont les champions du Merchandizing et des revenus non liés aux apparitions...
-=The Cleaner Kenny Omega=-
Right… Donc comme je disais… Je préférais faire le point en long, en large, à tort ET à travers sur MA plateforme, celle que JE controle et non celle sur laquelle Chris Jericho et ses singes savants ont un droit de véto. Voici ce que VOUS les fans de The Elite savez déja mais que les ignorants devront réaliser et ils devront le faire rapidement: Kenny Omega et les Young Bucks, nous ne sommes pas des performers "standards" - nous gérons notre carrière nous même et ce, comme si nous étions une plus petite entreprise à l'intérieure d'une plus grosse qu'est la World Wide Wrestling. Et en tant que PDG de "The Elite Inc", je prends les décisions qui sont les meilleurs pour THE ELITE même si ce ne sont pas les meilleures pour la W3. Du moins c'est ce que j'ai ENFIN compris lors de ma petite retraite fermée suivant Poison. Moi et les Bucks on s'est tapé un petit hiatus sous le soleil de Cayo Coco pour se... resourcer et faire le point sur notre situation.
-=Young Buck Matt Jackson=-
Ca et boire BEAUCOUP de mai tais et de mohitos...
-=Young Buck Nick Jackson=-
Ben… pas Kenny vu son statut straight-edge… mais il nous accompagnait avec du ginger ale et du jus de fruits.
-=The Cleaner Kenny Omega=-
Oui et si jamais vous me faites chier, j'ai AMPLEMENT de vidéos compromettants pour vous faire chanter sur mon iPhone. Comme, par exemple, la soirée Karaoke au resort...
-=Young Buck Matt Jackson=-
Chut! On a entendu qu'on ne parlait plus jamais de la soirée Karaoke...
-=Young Buck Nick Jackson=-
Mais ouais, on a saisi le message… We'll be good...
-=The Cleaner Kenny Omega=-
Mais revenons à nos moutons. Ce voyage a été fort salutaire parce que, comme je disais, il m'a permis d'avoir une épiphanie ou deux… notamment sur le fait que bien qu'on m'aie propulsé dans les hautes sphères de la W3, ce qui a mené à mon championnat du monde, la W3 en a rien à foutre de Kenny Omega et qu'au final, ils ne se sont servis que de moi strictement pour hyper ce sans-talent sur-évalué Randy Orton tout en essayant de façon pathétique de générer des ratings en orchestrant un "title change". Well Randy, un beau gros bravo, tu as re-conquis ta ceinture et tu trônes de nouveau au sommet de la pyramide. Aussi bien dire que lors de Poison tu m'affrontais alors que j'avais un bras attaché dans le dos et avec un bandeau sur les yeux parce que la W3 n'avait aucun désir de me voir ressortir de Poison avec mon title reign intact. Je m'explique
Omega retire ses "aviators" et les accroche au collet de son t-shirt.
-=The Cleaner Kenny Omega=-
C'est l'heure de "Storytime with The Cleaner", une histoire vraie que Chris Jericho et Lance Storm vont nier jusqu'à leur mort… c'est l'histoire d'un champion du monde d'une fédération de lutte. Appelons le Benny Alpha et appelons la fédération la V2 pour les besoins de la cause. Donc imaginez vous donc que la V2 avait un Pay-Per-View qui approchait. Appelons le "Cyanide", tiens. Or Cyanide arrivait à grands pas mais Benny Alpha n'était pas à San J… San Diego avec ses collègues pour se préparer au show quelques jours plus tard. Eh non, imaginez vous donc que Benny Alpha était à New Delhi en Inde parce que la V2 l'a "booké" pour apparaitre la bas pour faire sa "pute corporative" parce que la V2 veut percer le marché Indien prochainement. En bon champion, en bon "company guy", Benny fait sa job. Puis il rembarque dans l'avion la veille du show, un vol interminable de l'Inde jusqu'en Californie en plus du décalage horaire violent en bonus. Mais Benny est un pro et sait qu'il doit sortir une performance de béton le lendemain alors il se dit "une bonne nuit de sommeil réparatrice et l'affaire sera classée" SAUF QUE Kenn… euh… Benny arrive à l'hotel ou les autres lutteurs de la W3 sont logés et réalise rapidement que la V2 a OUBLIÉ de lui booker une chambre. Benny doit donc coucher dans un motel miteux pas trop propre avec des murs en carton ou il est réveillé aux 15 minutes par des bruits pas trop catholiques provenant des chambres voisines. Le lendemain soir, Benny monte quand meme dans le ring contre… euhm… ouais celle la est plus difficile… tiens, Mandy Morton (ouais… pas extra mais pas mal le mieux que je peux faire dans le contexte) et en dépit d'un effort SURHUMAIN, l'accumulation du vol transatlantique, du décalage horaire et du motel de merde ont finalement raison de notre valeureux champion. Pas extra comme histoire hein?
-=Young Buck Matt Jackson=-
Ouache, quelle histoire de MARDE…
-=Young Buck Nick Jackson=-
WE LOVE YOU BENNY! YOU GOT SCREWED.
-=The Cleaner Kenny Omega=-
Guys, c'est MOI Benny.
-=Young Buck Matt Jackson=-
Non, toi c'est KEN...Oooooooh.
-=Young Buck Nick Jackson=-
Wait… ca ressemble en sale à ce qui nous est arrivé à Poison ça, dude.
-=The Cleaner Kenny Omega=-
Parce que c'est EXACTEMENT ce qui nous est arrivé à Poison… Donc soit la W3 a mis les choses en oeuvre pour que je sois loin d'être à mon meilleur à Poison OU il y a un gars responsable du marketing et des arrangements pour les lutteurs qui mérite VACHEMENT un congédiement immédiat. Mais Randy, Chris, Lance… soyez rassurés. Je n'invoquerai pas mon rematch clause contre Randy Orton. Donc vous pouvez dormir tranquille, le "poster boy" de la W3 pourra conserver son joujou… POUR LE MOMENT. Parce que si j'abandonne mon World Title Rematch, c'est pour mieux remonter les échelons et, au final, reprendre mon dû. Alors Randy, ce n'est que partie remise. Mais pourquoi attendre right? Pourquoi cracher sur une opportunité en or? Deux raisons. La première: une claque sur la geule fait 100 fois plus mal quand tu ne t'y attends pas que lorsque tu la vois venir et que tu te prépares à l'impact. La seconde: j'ai décidé de prendre Poison comme "learning experience". Alors on va prendre le temps de batir la "Kenny Omega Brand" comme il le faut, rendre le nom de Kenny Omega IN-DIS-PEN-SABLE pour que plus JAMAIS Jericho et Storm se serve de mon nom et de ma hype pour faire de moi un "champion de transition" parce que leurs ratigns et leur achats de PPV SUCK. Alors Chris, Lance: j'attends la prochaine carte avec impatience pour voir quel chaudron vous mettrez sur ma route… question de savoir le nez de qui j'exploserai avec mon V-Trigger avant de lui faire faire un p'tit tour de "One Winged Angel". Pour ce qui est du Bullet Club… well, we're stronger than ever friends. Moi-même et les Bucks formeront The Elite… Marty, Akam et Rezar formeront le Vilain Club
-=Young Buck Matt Jackson=-
Rezar...c'était pas le chien mutant dans le 2e film des Ninja Turtles dans les années 90?
-=Young Buck Nick Jackson=-
Ca c'était RA-zhar… imbécile. Know your classics, bro!
-=The Cleaner Kenny Omega=-
Guys… pouvez vous vous hostiner sur vos fimls douteux des années 90 plus tard? Ahem… Comme je disais… The Elite roulera d'un coté, le Vilain Club de l'autre mais les 2 entités fonctionneront sous l'égide du Bullet Club, la plus grande faction de l'histoire de la lutte. Nothing has changed. Et maintenant, plus que jamais, we will RULE the W3.
Omega remet ses lunettes fumées et affiche un large sourire.
-=The Cleaner Kenny Omega=-
Ne reste plus qu'à vous convier au prochain rendez vous de "Being The Elite" bientôt sur votre chaîne Youtube préférée ainsi qu'à vous souhaiter à tous et chacun GOODBYE AND GOODNIGHT…
Omega et les Bucks font le geste du revolver en direction de la caméra et tirent un "coup de feu" simultanément en faisant le son de "bang" - au moment du "coup de feu", l'image devient enneigée avant que le thème de Being The Elite reprenne et que le générique défile sur le fond de neige.
GOODBYE AND GOOOOOOODNIGHT!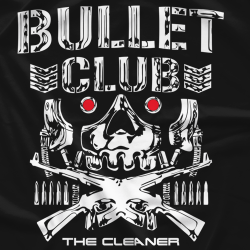 We are the Bullet Club 4-4-4-4-4-4 LIFE!